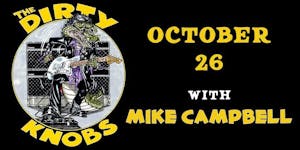 The Dirty Knobs with Mike Campbell
The Dirty Knobs w/ Mike Campbell show originally scheduled for 04/11 has been rescheduled to 10/26. Tickets will be honored for the new date
Hey everyone, Mike here.
On Sunday night my doctors discovered some health issues which while fully treatable, need to be addressed before going out on tour.
The good news, well really it's great news, is that I'm going to be just fine.
The bad news, and I say this with much frustration, is the tour which was scheduled to start next week will need to be postponed and rescheduled for September. Subsequently, we'll also need to postpone the album release until September 18th.
We can't be at New Orleans' Jazzfest this April but the already announced shows from June onwards with Chris Stapleton and Zac Brown Band will go on as planned.
If you bought tickets to any of our headline shows, they will still be good for the rescheduled dates which are listed below. If you are unable to make the new date, you can obtain a refund at your point of purchase and we hope to see you another time soon.
I know that many of you made plans to travel to the upcoming shows and I'm so sorry that those plans have been upended.
However, health is the most important thing and I want to bring you the best show possible. I truly appreciate everyone's understanding.
The Knobs and I are eagerly looking forward to seeing you and sharing more music with you, just a bit later than we had hoped.
With love,
Mike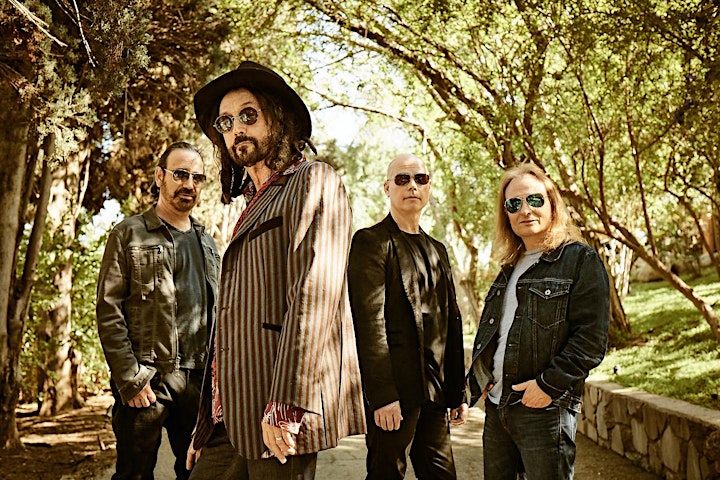 THE DIRTY KNOBS WITH MIKE CAMPBELL
While 2020's Wreckless Abandon is their first official release and occasion to tour, The Dirty Knobs first came together 15 years ago after Mike Campbell met guitarist Jason Sinay at a session and liked the way their guitars sounded together. After adding the acclaimed rhythm section of bassist Lance Morrison (Don Henley) and drummer Matt Laug (Slash, Alanis Morrisette), The Dirty Knobs became an outlet for Campbell to work on some of the other songs he was writing between Tom Petty and The Heartbreakers records and touring.

They got together when schedules permitted, playing music without an agenda, expectations or deadlines, without worrying about outcome or hits, pushing boundaries of taste, imagination, and genres and creating some of the most brutally confident yet psychically dangerous rock and roll since sonic-renegade juggernauts the Yardbirds first sauntered onto a London stage and ripped into "For Your Love."

As the years went on the Knobs played out here and there, almost incognito, in little clubs in Southern California. Looking mysterious and a little troubled in their mirror shades, neck scarfs, black shirts and vests, they were propelled out of rock's murky past, but born full-blown. In a way, they were doing their own version of the Beatles' formative, tighten-up Hamburg years: performing oddball covers but mostly original songs about bad women, complicated relationships and messy confrontations.

Finally, after all those years together, it became clear they should take what they did to the next level. Campbell's long-time compatriot, friend and bandmate, Tom Petty, had passed away, and after the numbing grief abated some, the guitarist knew the only way to heal some of the pain was to throw himself wholeheartedly back into his music.

"Losing Tom was earth-shattering for me. It was a total shock." says Campbell. "It had felt like we would be playing together forever. For a while it was hard to imagine playing in my own band again, let alone one where I'm the frontman. Tom was always my beacon. But everything I've been doing since Tom passed, including this album with The Dirty Knobs, is in the spirit of honoring what we did together."

They recorded the album at Campbell's home studio, Hocus Pocus Recorders, in just three weeks' time, before the guitarist went out on the road in 2018 as a member of Fleetwood Mac. The Knobs tapped legendary producer George Drakoulias, who had also produced Tom Petty and The Heartbreakers' 2002 LP The Last DJ, to co-produce. They also contacted the equally fabled Klaus Voormann -- Beatles intimate, former member of Manfred Mann, and the artist behind Revolver -- to design their album cover.

"From the very first, the Dirty Knobs just felt right," says Campbell. "Everything just flowed. Recording the album was just an extension of that. This is a great group, there's a chemistry here and there's fun. You can't underrate the importance of fun. It's not something you can fake, but it is something you can hear in the album."

Venue Information:
Troubadour
9081 Santa Monica Blvd
Los Angeles, CA, 90069